Revista de imprensa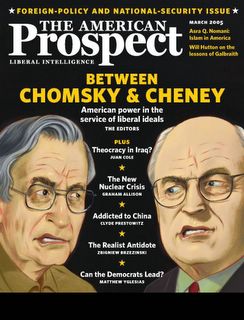 American Prospect
"
X + 9/11-Everything I needed to know about fighting terrorism I learned from George F. Kennan
" por Robert L. Hutchings- Foreign Policy
"
George F. Kennan, 1904-2005-Requiem for a foreign policy giant
. "- The Weekly Standard
"
George W. Bush et la «paix démocratique»
" por BRUNO TERTRAIS, Le Figaro
"
THE UNBRANDING- Can the Democrats make themselves look tough
?" por JEFFREY GOLDBERG, The New Yorker
"
Europe alone
"- por Philip Gordon, Prospect
"
A hawk to ruffle the World Bank's feathers
", The Economist
"
Nuts and Bolton
" por Mark Steyn, The Spectator
"
Brazil: Navigating the Straits of Globalization
", The Globalist
"
The Perils of Counterinsurgency: Russia's War in Chechnya
", por Mark Kramer, International Security